Plan je reis
laatste zoekopdrachten
van

naar

terugvlucht van

naar

Vertrekdatum


Retourdatum



Oman Air

Over Oman Air
Frequent Flyer Programma: Sindbad
Oman Air is de nationale luchtvaartmaatschappij van het Sultanaat van Oman en officieel een 4 sterren airline (Skytrax 2011). Sinds de oprichting in 1993 heeft de Airline een enorme expansie gekend en een belangrijke rol gespeeld bij het op de kaart zetten van Muscat als belangrijke verkeershub in het Midden-Oosten die bijdraagt aan de groei binnen van de commerciele-, industriële- en vakantiebranche. Momenteel zijn er internationale vluchten vanuit Muscat naar meer dan 40 bestemmingen in het Midden-Oosten, het Indiaas sub-Continent, Europa, Afrika het Verre Oosten en uiteraard binnen Oman zelf.
Oman Air's duidelijke keuze en toewijding aan het bieden van kwaliteit, comfort en het constante streven naar een uitmuntende service en reisbeleving voor elke gast aan boord hebben geleid tot de winst van een flink aantal Skytrax World Airline Awards waaronder Best Business Class Seat in The World (2011, 2012), Middle East (2015, 2011) en Best Staff Service, Middle East (2014). Hiernaast is de Airline ook trots en vereerd met het winnen van World's Leading Airline – Economy Class (2014) en Best Economy Class Airline – Middle East (2013, 2014).
First class
Oman Air biedt een niveau van luxe aan haar premium class gasten inclusief lie-flat stoelen, direct toegang tot het gangpad en á la carte dining voor elke passagier in First Class. Met slechts 6 stoelen en een luxueus lounge gedeelte waant u zichzelf in een privé jet! De First Class stoel is de langste lie-flat stoel binnen de commerciële luchtvaart met een enorme 87 inch pitch. Centraal is er de 26inch bank met ingebouwde 8-punts massagemogelijkheid.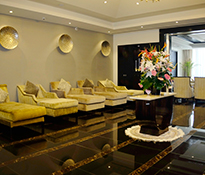 Business class
Oman Air's Business Class is vaak beter dan het First Class aanbod van andere luchtvaartmaatschappijen. De lie-flat Business Class stoel, met een pitch van 82 inch is met een druk op de knop in te stellen naar hoe de gast het liefst wenst de zitten of te liggen.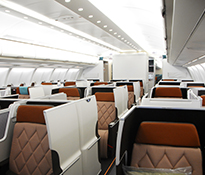 Economy class
Oman Air's Economy Class biedt alles, waar de reiziger van vandaag om vraagt; uitstekende service, connectiviteit, informatie en entertainment bestaande uit de meest recente films en series. Inflight Dining De hoogste kwaliteit en met de hoogste zorg samengesteld met seizoensingedrienten maken dat u kunt kiezen uit een divers aanbod uit de Arabische keuken aan boord. Stay Connected Stuur een SMS bericht, maak een update van uw social media, of bel met uw dierbaren met Oman Air's WY-Fi internet services.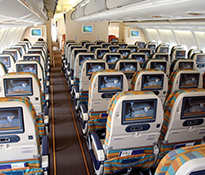 on time performance
Oman Air
| | | | |
| --- | --- | --- | --- |
| stiptheid | 81% | | |
| laat (15 min.) | 10% | | |
| laat (30 min.) | 3% | | |
| laat (45 min.) | 4% | | |
| geannuleerd | 0% | | |
| omgeleid | 2% | | |
Deze grafiek is gebaseerd op de monitoring van 6269 vluchten.

81% van de vluchten van Oman Air vertrekt op tijd. Oman Air scored hiermee bovengemiddeld. Het gemiddelde van de laatste maand was 70%.
Op basis van onafhankelijk onderzoek naar 800 verschillende onderdelen op product en serviceniveau zijn alle luchtvaartmaatschappijen ingedeeld volgens het sterrensysteem. Hoe meer sterren een airline heeft, hoe beter het product en dienstverlening. Op dit moment zijn er 9 vijfsterren-airlines, te weten Qatar Airways, Singapore Airlines, Cathay Pacific Airways, Asiana Airlines, Hainan Airlines, ANA All Nippon Airways, Garuda Indonesia, EVA Air en Etihad Airways.