Plan je reis
laatste zoekopdrachten
van

naar

terugvlucht van

naar

Vertrekdatum


Retourdatum



Garuda Indonesia

Over Garuda Indonesia
Frequent Flyer Programma: Garuda Miles
Beleef de gastvrije Indonesische cultuur aan boord bij Garuda Indonesia, de nationale luchtvaartmaatschappij van Indonesië. Met ruim 65 binnenlandse bestemmingen brengt Garuda passagiers naar onder meer Jakarta, Bali, Surabaya, en Yogyakarta in comfort en stijl. Ook buiten Indonesië worden er diverse internationale bestemmingen aangevlogen waaronder Australië, Singapore, Maleisië, Thailand en Japan. Ontdek hier de vele voordelen:
De enige non-stop Amsterdam – Jakarta vlucht
Bespaar ruim 8 uur vluchttijd op uw retourvlucht Amsterdam – Jakarta
Exclusieve Skytrax 5 sterren luchtvaartmaatschappij
World's Best Cabin Crew 2014, 2015 & 2016
Geniet van een nieuwe, extra ruime Boeing 777-300 ER met First, Business & Economy Class
Full flat bed in First en Business Class
Ruime bagagevrijdom: 30kg in Economy Class, 40kg in Business Class, 50kg in First Class
Wi-fi & Live TV aan boord
Gratis sportbagage
Moderne vloot
SkyTeam lidmaatschap
Indonesische cultuur en gastvrijheid aan boord
De enige non-stop Amsterdam – Jakarta vlucht!
Ervaar de voordelen met de enige, unieke non-stop Amsterdam – Jakarta vlucht in een nieuwe, moderne Boeing 777-300ER. Deze directe verbinding brengt passagiers in slechts 13,5 uur van Amsterdam naar Indonesië. Gemiddeld bent u ruim 4 uur sneller in Jakarta dan met menig andere luchtvaartmaatschappij.

Awardwinning airline
Garuda Indonesia valt regelmatig in de prijzen, waaronder "World's Best Economy Class" in 2013 en
"World's Best Cabin Crew" in 2014, 2015 en 2016, en is de luchtvaartmaatschappij benoemt tot Skytrax no.1 "Customer Most Loved Airline" met een 85% tevredenheidspercentage. Daarnaast heeft Garuda nu ook een exclusieve Skytrax "5-Star Airline" status, als slechts één van in totaal acht luchtvaartmaatschappijen wereldwijd!

Extra services: Wi-Fi aan boord!
Garuda Indonesia voorziet in alle soorten wensen. Zo heeft de nieuwe Boeing 777-300ER Wi-Fi aan boord, Personal Touch Screen Entertainment system inclusief Live TV. Door het lidmaatschap met luchtvaartalliantie SkyTeam profiteren reizigers van goede aansluitingen en Frequent Flyer programma samenwerkingen.

De beste manier van reizen is met Garuda Indonesia! Wanneer verwelkomen wij u aan boord?
First Class
Geniet van de enige First Class op de Amsterdam – Jakarta route met extra's zoals een luxueuze cabine, een persoonlijke assistent voor en na de vlucht, toegang tot First/VIP lounges en nog veel meer.

Business Class
De Executive Class is de Business Class van Garuda Indonesia en is beschikbaar op alle vluchten.

De vernieuwde Business Class is opgezet met een zeer ruime 1 – 2 – 1 configuratie - dus geen stoel meer in het midden! – en full flat bed, en voorziet perfect in de garantie voor een comfortabele vluchtervaring. De stoelen beschikken over een beeldscherm waarop de nieuwste films, de leukste spelletjes en de beste muziek mee afgespeeld kan worden. De maaltijden zijn van de allerbeste kwaliteit en passagiers kunnen rekenen op een heuse Indonesische rijsttafel. De stoelen aan boord bieden alle gelegenheid om te slapen, dineren, werken, spelen en uitgerust aan te komen op uw bestemming.

Garuda Executive biedt u op de luchthaven voorrang bij het inchecken, instappen en de bagageafhandeling. Tevens heeft u toegang tot de lounges, waar u heerlijk kunt dineren of zichzelf kunt opfrissen. U zult verstelt staan van de vriendelijke service van het Garuda personeel.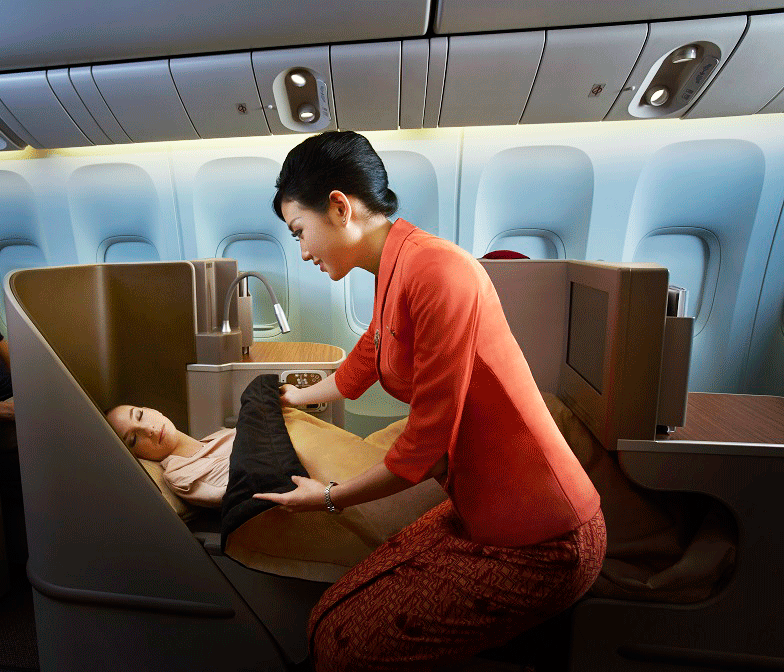 Economy Class
Ervaar de in 2013 tot World's Best verkozen Economy Class en Economy Class seats. Deze klasse biedt ruime stoelen in een zeer ruime 3 – 3 – 3 configuratie. Waar menig andere luchtvaartmaatschappij producten zoals Economy Plus en Comfort Class aanbieden voor een meerprijs, genieten Garuda Indonesia passagiers al van deze voordelen in de standaard Economy Class, met onder andere een ruime 30 kg bagagevrijdom.

De Economy Class van Garuda biedt u een ruime stoel en een geweldig entertainmentaanbod. U kunt gebruik maken van de stopcontacten die u door de economy cabine vindt om naar uw dvd-speler te kijken, op uw laptop te werken of de batterijen van uw mobiele telefoon op te laden. Op de lange afstandsvluchten beschikt u over een persoonlijk videoscherm met een ruim aanbod van de nieuwste films, tv-series, documentaires en nog veel meer. Aan boord ontvangt u een gratis hoofdtelefoon. De stoelen bieden veel comfort. Zo heeft de stoel een hoofdsteun die u in meerdere richtingen kunt verplaatsen. De maaltijden aan boord zijn van goede kwaliteit; u heeft de keuze uit meerdere hoofdschotels, waaronder heerlijke Indonesische creaties.
on time performance
Garuda Indonesia
| | | | |
| --- | --- | --- | --- |
| stiptheid | 77% | | |
| laat (15 min.) | 11% | | |
| laat (30 min.) | 4% | | |
| laat (45 min.) | 4% | | |
| geannuleerd | 0% | | |
| omgeleid | 4% | | |
Deze grafiek is gebaseerd op de monitoring van 10003 vluchten.

77% van de vluchten van Garuda Indonesia vertrekt op tijd. Garuda Indonesia scored hiermee bovengemiddeld. Het gemiddelde van de laatste maand was 70%.
Op basis van onafhankelijk onderzoek naar 800 verschillende onderdelen op product en serviceniveau zijn alle luchtvaartmaatschappijen ingedeeld volgens het sterrensysteem. Hoe meer sterren een airline heeft, hoe beter het product en dienstverlening. Op dit moment zijn er 9 vijfsterren-airlines, te weten Qatar Airways, Singapore Airlines, Cathay Pacific Airways, Asiana Airlines, Hainan Airlines, ANA All Nippon Airways, Garuda Indonesia, EVA Air en Etihad Airways.